FOCUS

>
Storage & Workcases
Torque rounds up the latest storage solution innovations from the likes of Makita, Stahlwille, Sorta-case and Milwaukee…
Makita
When investing in high quality, technical power tools and accessories it makes sense to invest in an appropriate storage system. Makita provides a smart way to store tools and accessories with the MakPack Connector Case System, which will ensure tools are safe, organised and secure wherever you are.
Rugged and sturdy, the Connector System consists of four cases of varying heights, one tool box and two transport trollies. The cases can be stacked with the locking latches and additional inlay trays can also be added. These interconnected cases take up less storage and are easy to transport to and from your workspace. Many Makita power tools are supplied in a MakPac stacking case.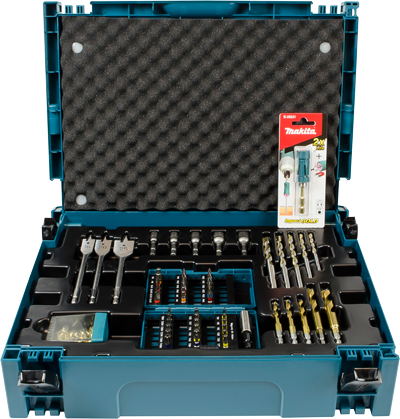 Multiple product kits by Makita, for example the DLX2025M 18V LXT two-piece kit which includes a rotary hammer, combi drill, charger and batteries and represents excellent value, are supplied in a robust, water resistant carry bag and are available to purchase separately.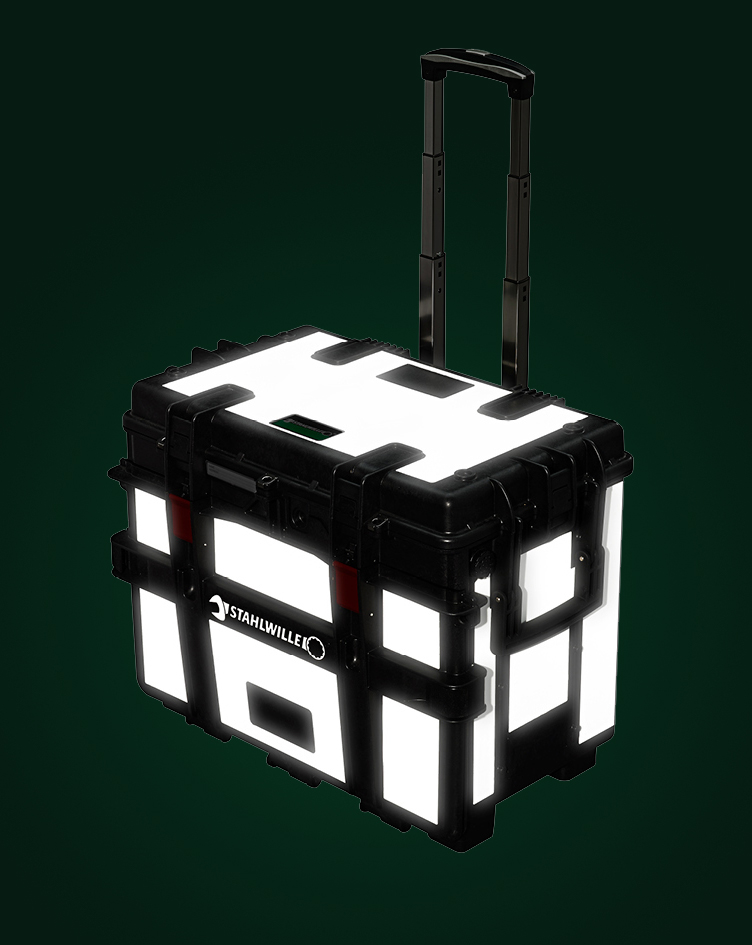 Trolley 13217 is available with a high-visibility reflecting surface improving visibility even over longer distances.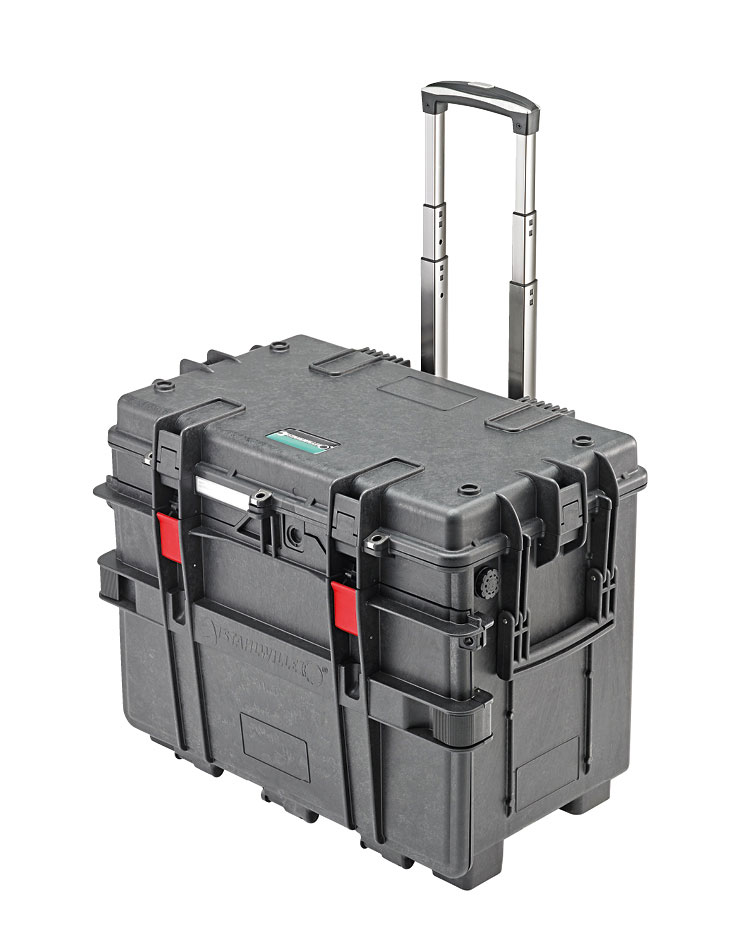 Stahlwille
With up to eight drawers in a sturdy, space-saving plastic housing, endstops and three different drawer heights, resilient wheels and a telescopic handle, it can be used to transport even well-appointed toolkits weighing up to 60 kg without problems from A to B.


All the drawers can be individually removed. By fitting a transparent lid – which is stored together with a detachable tray for small components and tools in the lid of the trolley – they convert to carry cases. In this way, the user can select only the individual tools required for the specific service task to carry over the last few metres to the job site, without forfeiting secure protection.
Stahlwille has equipped this IP67 variant of the all-purpose trolley with additional locks, catches and seals and it even has a pressure equalizing valve to ensure it is effectively protected against water and dust. As an option, Trolley 13217 can be supplied with four swivelling castors to provide even greater manoeuvrability. Last but not least, it is available with a high-visibility reflecting surface. When staff are working in dark surroundings, this finish contributes to improved visibility even over longer distances, which means increased safety for personnel.
Sorta-Case
Sorta-Case will be adding a range of UK Manufactured Screw Cover Caps and also some furniture fittings to its product range during the coming months. Screw Caps will be available as push-in of hinged cap options and range up to 35mm to cover the needs of the kitchen manufacturing industries.
All of these will be available in kit form in the company's Sorta-Pak and Small Sorta-Case products, which are also manufactured in the UK.
Initially, Sorta-Case will offer these plastic products in a range of standard popular colours but also offer options for specific colour matching. The new range will also be available in handy size bags or bulk packed to cover different demands.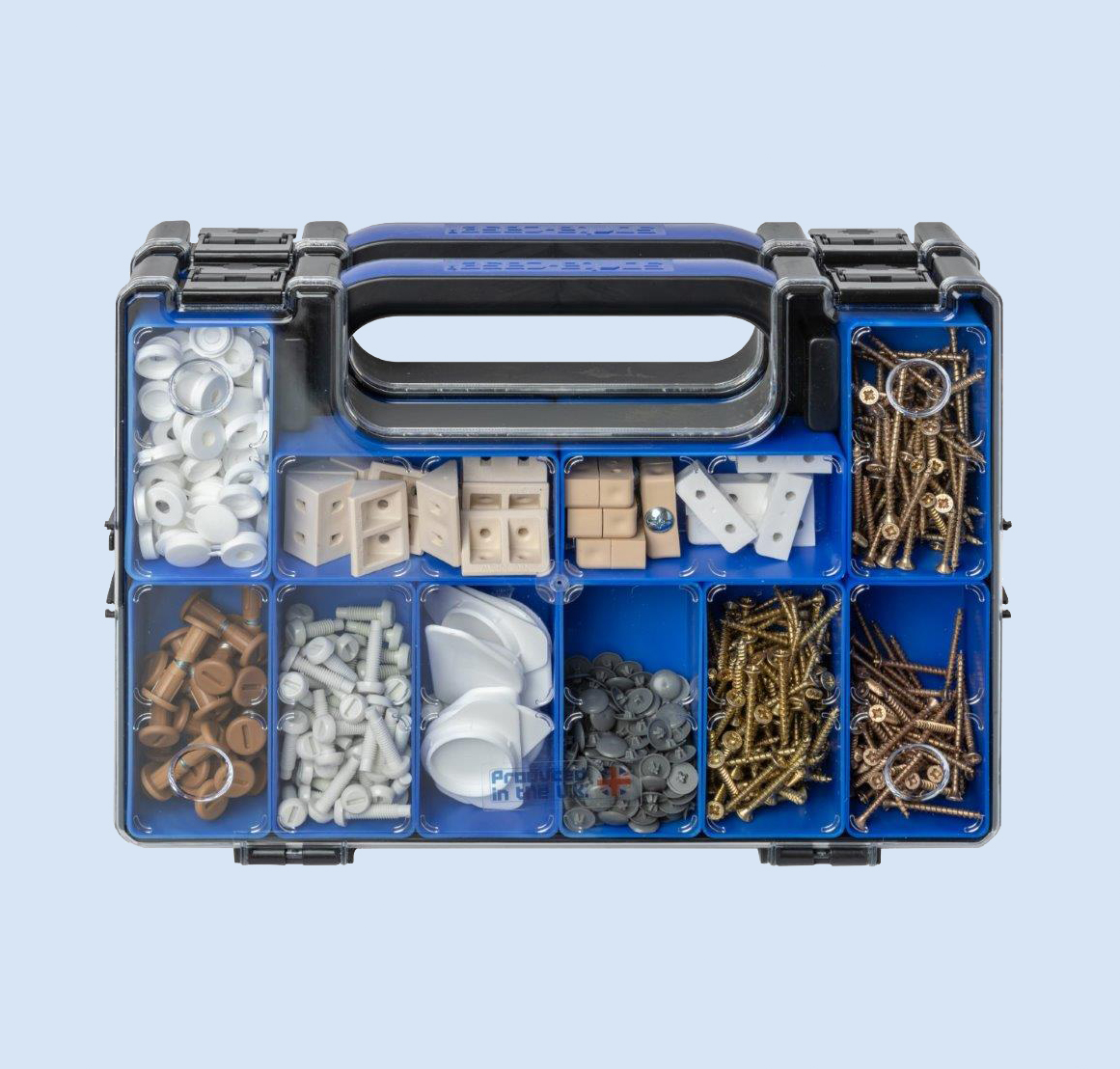 Milwaukee
The Milwaukee PACKOUT modular storage system revolutionises tool transportation, organisation and storage. Designed to provide users with the ability to interchange ad interlock a wide assortment of heavy-duty attachments in multiple configurations.
The range has recently expanded to include slim organisers, duffel bags, tech bag, and a backpack. With more expansion planned for the range, including mounting plates for vans or workshops, PACKOUT looks set to continue to offer a versatile and durable solution for tool transportation.
The 23cm all-terrain wheels, reinforced locking points, and IP65 protection allows users to take their tools anywhere without having to worry about location or security, deeming itself the answer to uncompromising tool transportation.