FOCUS

>

WEBSHOPS
E-tailing expertise
As the industry becomes increasingly digitised, Torque looks at the companies who are implementing smarter ways to service their customers online…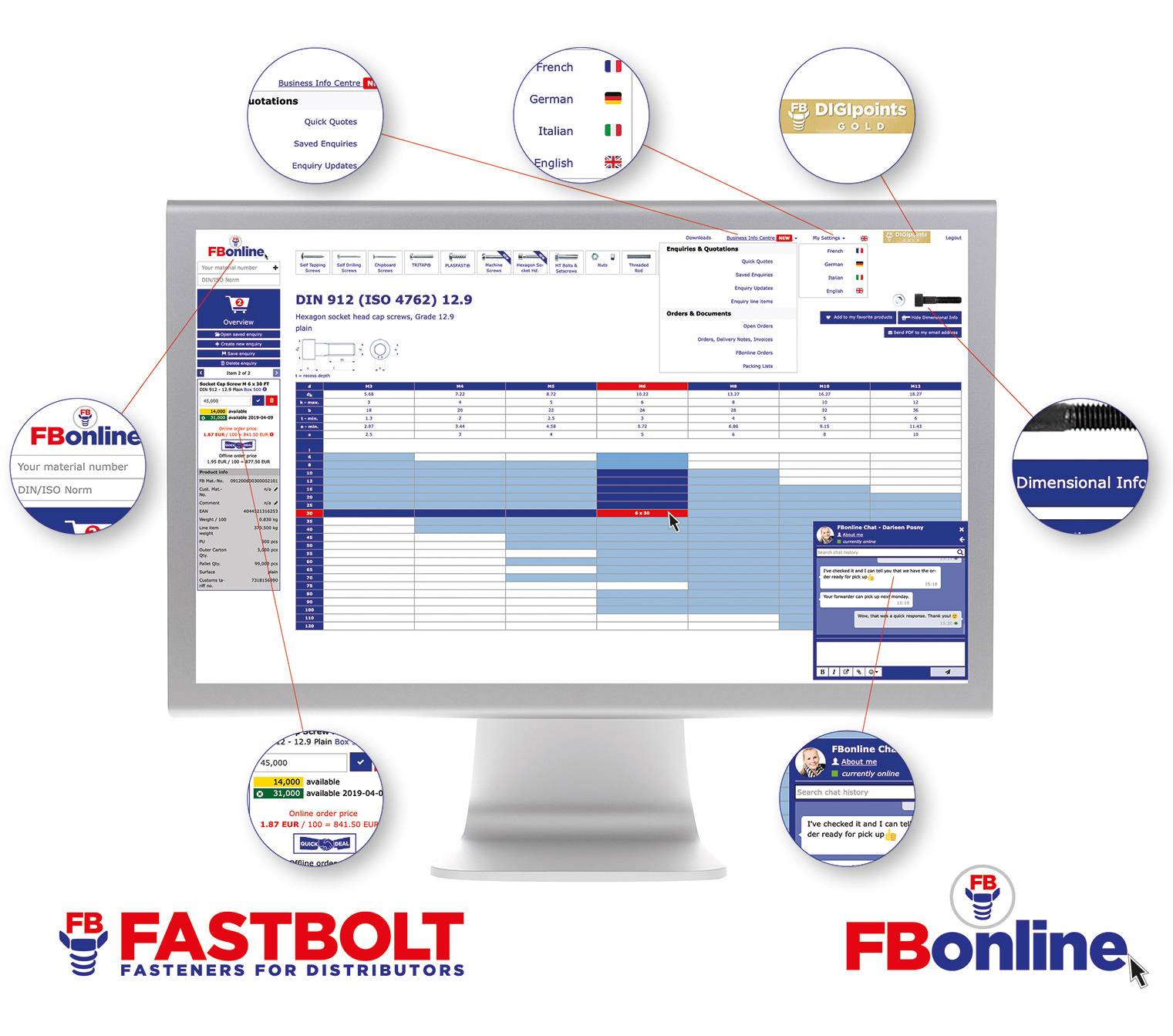 Fastbolt
FBonline became one of the industry's pioneer online solutions after its launch back in 2005, and Fastbolt has developed it ever since through its own team of software programmers to become a market leading e-commerce platform for fastener distributors.
The multilingual FBonline solution displays current and future stock availability, customer individual and volume-based pricing, technical product information and offers a complete high-speed order processing and order management solution that adapts to its customer's buying process.
Products can be defined quickly with only two mouse clicks or selected by entering pre-mapped customer item numbers. FBonline allows mass uploads of long inquiry files containing hundreds of line items and provides quotations and direct order possibility instantly.
Meanwhile, the 'Business Info Centre' offers a complete document management solution for order confirmations, invoices, delivery notes and packing lists and gives real-time access to current open order status.
Through FB DIGIpoints, an online discount and credit note system, customers enjoy online advantages and can talk with their dedicated sales person through Fastbolt's instant messaging service FBonline Chat.
FBonline is a complete business solution for fastener distributors and permanent technical innovation ensures its future leading role in the market.
Kobout
According to Kobout, its customers are the company's main priority. In the last few weeks Kobout has made a major step forward in its service offering by making its new web portal available to customers.
The new web portal offers a new dimension to the service that Kobout is already offering to its customers. Some features are available now, including a quick search function with elastic search, coupled with the track and trace system, survey of backorders and survey of outstanding invoices.
In the background much work has been done to update the web portal, such as enhancing user-friendliness and smoothing the ordering process with the integration of the new quick order function.
Lederer
Over Easter, the Lederer Online Shop for stainless steel fasteners, which has been successful online for 13 years now, was replaced by a more modern, high-performance and flexible e-Business solution.
The focus is still on powerful search functions, including numerous product details and variants which produce the desired results at a previously unknown speed.
Naturally, the new Lederer Online Shop is also digitally responsive; it can automatically adapt the shop, web pages and forms to any output device, such as desktop PC, tablet or smartphone.
Contemporary features in Lederer's new webshop include:
a reorder list, showing all previous orders
a favourites list
a further improved availability display at various levels including a new notification function
an optional download of price lists
an upload function for importing customers own order files/article lists
a quick-order form for the fast and efficient input of item requests, where the customer need only enter the article number and quantity before placing the order.
Lastly, but by no means least, Lederer has integrated an even more secure 2-factor authentication than before, setting new standards in terms of security.
WASI
With more than 20,000 available articles, current prices and functions, the WASI Webshop offers an all-round package that provides a good look at the complete product range. Product categories and filter functions enable customers to find what they want as quick as possible.
The WASI app allows the simple re-ordering of required products; for example, ordering directly from the warehouse during the stock check by using the barcode scanner or the search function.
The webshop and app have an impressive array of functions: Own article numbers in the WASI Webshop, data export to the SAP system, order history and favourite shopping cart to simplify the ordering process, while a shared shopping cart with colleagues allows ordering with lower process costs. The app also allows the upload of order data from the respective merchandise management system as well as automatic purchase order processing helps to avoid errors.