FOCUS

>

Abrasives & Cutting Tools
Circular saws, diamond blades, holemaking systems and… rucksacks – they all feature in our abrasives and cutting tools round-up
AW Tools
Sheffield-based AW Tools specialises in sourcing and distributing high quality hand tools and power tool accessories. The company also manufactures circular saw and diamond blades, such as the Diamond Multi Cutter.
The Diamond Multi Cutter is an efficient, aggressive and versatile accessory for angle grinders. During the manufacturing process, the diamond pieces are brazed to the hardened steel body to ensure a strong bond to the hardwearing diamond. This maximises the life of the cutting edges until they are completely exhausted, allowing for faster cutting and an improved lifespan for the product.
The Diamond Multi Cutter cuts through brick, stone, marble, granite, plastics, ceramics, cast iron, ferrous metals, non-ferrous metals, fibre glass, carbon fibre, composite materials, rubber and wood with nails and screws. This versatility means you can leave one blade in your angle grinder for all applications.
The product comes in four sizes from 105mm up to 230mm to fit the most popular sized angle grinders.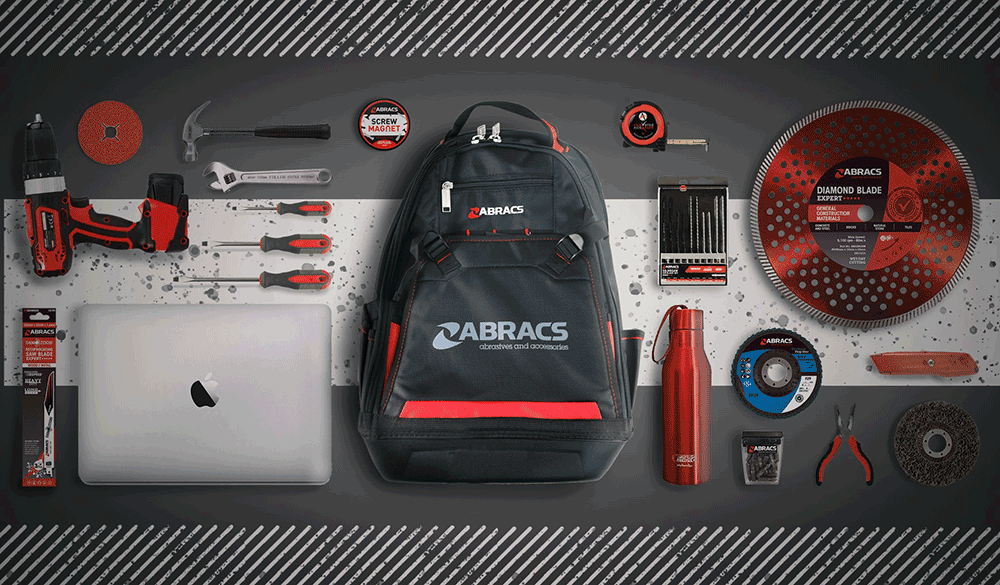 Abracs
Each product by Abracs undergoes rigorous testing and quality control procedures, earning the manufacturer the recognised RISQS, ISO 9001 and O.S.A accreditation for its European manufactured products.
Abracs' new range of TCT Blades are manufactured with Tungsten Carbide tipped teeth for wear resistance and long lifetime. The blades feature a fully-hardened plate which offers precision accuracy, while the expansion slots eliminate the risk of warping. The TCT Blades are available in a broad range of sizes, cut types and teeth configurations, for use on most wood material applications.
Abracs offer the TCT Blades in sizes from 165mm to 305mm in a range of teeth configurations and kerfs for use in conjunction with either Mitre or Circular saws.
Abracs has also brought out a new On-site Rucksack, featuring multi-compartment storage solutions to give quick and easy access and padded shoulder and back pads for comfort. The plastic base is waterproof and durable while the bag is manufactured with a heavy duty 1680 denier polyester fabric for increased durability.
Seco Tools
Headquartered in Sweden, Seco is one of the world's largest providers of comprehensive metal cutting solutions for milling, stationary tools, holemaking and tooling systems.
Seco has recently launched the Double Quattromill 22 inserts for roughing and semi finishing, achieving large depth-of-cut capability with eight multi-edge insert cutting edges.
The Double Quattromill 22 lowers cutting forces and machine power consumption to ensure workpiece stability. The inserts feature high-axial rake angles that not only make them free cutting but also give them longer tool life and more versatility for a wide range of part materials, including: steel, cast iron, 15-5 stainless steel, and superalloy materials such as titanium and Inconel.
The 45° lead angle provides a combination of lower cutting forces, less power consumption, higher feed rates and exceptional chip thinning. While on the other hand, the 68° is best when having to mill close to a wall or part fixture.
The inserts also feature wiper flats, and the 45° lead angle types come in three geometries for stainless steels, titanium and other sticky materials: a universal type for steels to cast irons and superalloys, and one for tool steels from P6 to P11, and cast iron.
To ensure you get your printed copy of TORQUE magazine,
click the subscribe button below...