OPINION

>

MACHINE MAINTENANCE
Inspiring confidence in
machine maintenance
General maintenance tasks tend to not be considered a priority, however, such processes can have a significant impact on business,Tork explains…
Rags are commonly used to clean machinery and the workplace, though in terms of efficiency and professionalism they are less than ideal. Rags clutter the area, could harbour dangerous chemicals and dusts, often spreading around grease or oil rather than absorbing it. Why use old rags to clean sophisticated machinery? Breaking tradition from using rags allows for a new alternative that is safer to use and more time efficient.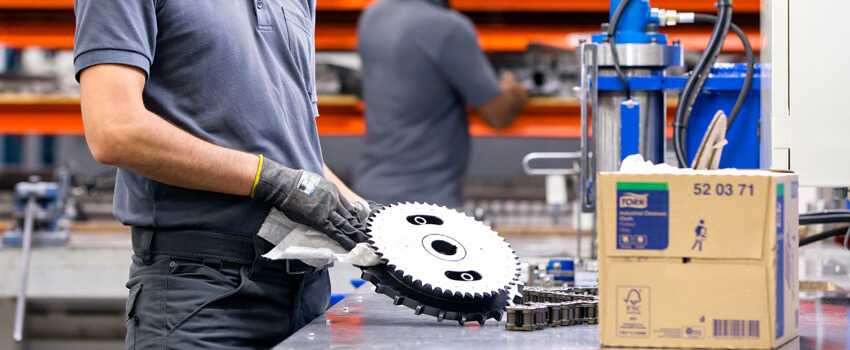 Keep your production line clean
Industrial wipes are soft, flexible and excellent for cleaning oil and grease. Using professional cleaning wipes with specialist non-woven material, as opposed to rags, is proven to enhance hygiene and safety, using less solvents, saving more time, and requiring less storage space. Individuals can work in a smarter and safer way, increasing worker satisfaction as the maintenance task can be completed more quickly, ultimately improving processes in the workplace.
What's more, it's important to consider the impression of the production space as it reflects the company and its product. An untidy factory or a work space cluttered with rags fails the 5S methodology; a system implemented to help better organise a company and its resources, streamline production and eliminate waste. Failing 5S principles can cause a negative spiral, triggering accidents at work, assembly line disruptions and workforce stress. A spotless factory inspires confidence - in the company, employees and in the product.
A clean environment with effective products influences the speed of workflow. Meeting production targets can only lead to great things: increased company performance, new investments and security for employees. It's imperative that the perception of cleaning tasks amongst the workforce must change and not be perceived as a mundane task, rather something that if done right, can impact bottom line and benefit everyone.
Tork, industrial experts in professional hygiene products and services, help to keep production lines clean and running with our handy dispensers and purpose-made cloths, minimising downtime and maximising efficiency.
A spotless factory inspires confidence - in the company, employees and in the product