Pre-Applied Vibra-Tite VC-3 is a process in which fasteners are coated in bulk with VC-3 Threadlocker. VC-3 is a unique process which makes fasteners self-locking and sealing, but are still adjustable, removable, and reusable. A blend of cold flow acrylic polymers, VC-3 acts like a shock absorber, dampening vibration and preventing fastener assembly thread rotation.
How it works
Fasteners sent to ND Industries, undergo the Pre-Applied Vibra-Tite VC-3 process in which VC-3 is flow coated onto internal or external fastener threads made of virtually any material or finish. Unlike many other pre-applied threadlockers, VC-3 processing does not require heat which reduces the chance of degradation of the fastener or its finish. Parts arrive to the customer dry to the touch and ready for installation.

Processing is compatible with both ferrous and non-ferrous metals, most platings, wood, and nylon, PPE, or PP plastics. There are no limitiations on fasteners size or configuration.
Using steady pressure and standard hand tools, Vibra-tite VC-3 parts can easily be adjusted, removed, and reused.

With exceptional reliability, VC-3 holds parts in place even during extreme vibration and resists leakage by acting as a dam between mated threads.

When in a cool and dry environment, Vibra-tite VC-3 processed parts can be stored indefinitely before use.

Since Vibra-tite VC-3 remains a thick, resilient, cold flow resin, its properties actually minimize galling or stripping of soft threads during reuse.

Resistant to most solvents (acts as a partial corrosion barrier) with total resistance to water and salt water.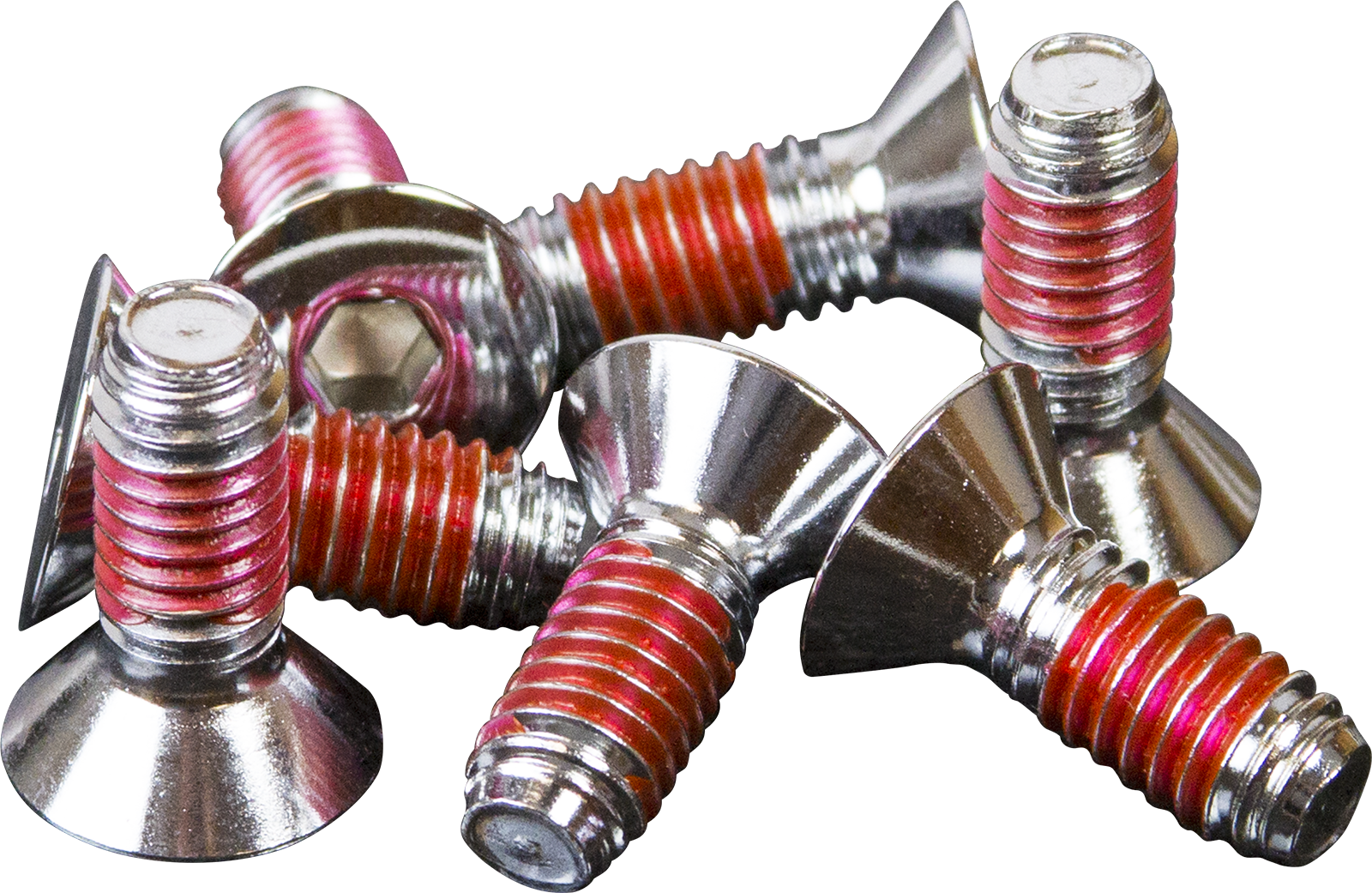 PROCESS

BENEFITS
Low Temp Application:
Compared to many other Pre-Applied threadlockers, VC-3 does not require high heat for the application process which reduces damage to the fastener and finish.
Saves Time:
Vibra-Tite VC-3 processed fasteners can be automatically fed through standard feeding devices.
Saves Money:
Eliminates the need for costly lock washers, cotter pins, or castellated nuts. Moreover, VC-3 processing is less expensive than applying bottled threadlockers at the point of assembly.
Quality Control:
Pre-Applied Vibra-Tite VC-3 parts are coated to specification, insuring consistent performance unlike bottled products.
Reduces Fatigue:
By using Vibra-Tite VC-3 processing, the need for retightening is greatly reduced.
PROCESS

APPLICATIONS
From tiny eyeglass screws to huge construction bolts, Vibra-tite VC-3 processing is ideal for use on fasteners of any size. VC-3 can serve as an alternative to ND Patch when low installation torques are required along with the need for adjustability and reusability.
APPROVED

SPECIFICATIONS
Meets or exceeds the performance requirements of the following specifications and/or standards:
• U.S. Army Missile Command: MIS-28867A, P5407-1
• U.S. Airforce: 19207
• U.S. Army Tank Automotive Command (General Dynamics):11663357
• Naval Sea Command: 5174855
OTHER

NOTES
Processed parts are dry to the touch and ready for immediate use with no cure time.
Vibra-Tite VC-3 processing does not require any lead threads.
Vibra-Tite VC-3 can also be purchased for manual application (bottled product) from our Vibra-Tite Division.
PRE-APPLIED

SERVICE
Step 1 - Process Selection:
Our sales and R&D staff will help you find the right process to meet your performance specifications.
Step 2 - Shipping:
Once a selection has been made, have your fasteners shipped to one of our worldwide processing centers.
Step 3 - Processing:
Utilizing custom, high-speed equipment, we apply the necessary materials to your exact specification.
Step 4 - Delivery:
Once processing is complete, parts are shipped back ready for distribution or assembly.