FOCUS

>

POWER TOOLS AND ACCESSORIES
Who's got the power?
It's not just about delivering high power anymore. Power tools need to be quieter, lower maintenance and even tap into the trend for complete systems, to compete with the market leaders. Torque drills down to some of the latest on the market…
SENCO: Dampening the decibels
Building sites are keeping a close eye on their decibel output because local authorities are keen for them to keep as quiet as possible… and trades men and women are equally keen to have functioning ears in the years to come. So there's pressure on the tools industry to come up with quieter products. Step forward SENCO, which has a Low Noise Compressor Range which is now available in the UK.
Noise levels of 85db for extended periods are generally accepted to damage hearing. The noise level from all of SENCO's (seven) new compressors stay below 78dB and still provide consistent and powerful air delivery.
The low-maintenance ranges include highly portable four litre models (58dB), right up to 50 litre models (72dB), and are all oil-free. Twin-cylinder tech allows the motor to run at a lower speed, dramatically reducing noise levels. Lower motor speeds also reduce heat generated by the motor, cutting down on damaging condensation being produced in the tank. Rubber feet and inflated wheels also help reduce noise still further.
The new range caters for domestic and site work - five of the seven models also come in 110v. They are priced competitively too.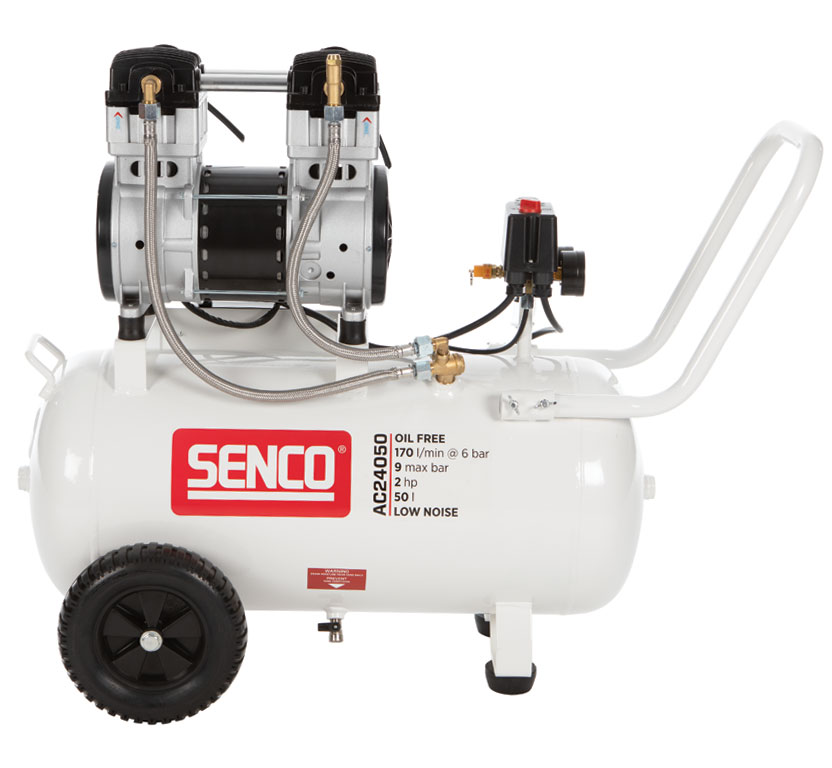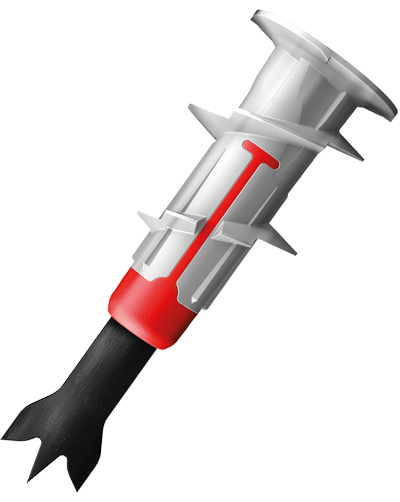 HiKOKI: Hard torque-ing
HiKOKI's DS36DAX 36V Drill/Driver delivers 138Nm of hard torque, with that high level of performance delivered by an efficient brushless motor, powered by 36V Multi Volt batteries.
A compact body (only 204mm long), makes it easier to work in tight spaces while user comfort and convenience is boosted with a high overload capacity and the Reactive Force Control (RFC) safety feature. The DS36DAX has 22 stage torque settings, a built-in LED work light and a high performance Röhm chuck with spindle lock. It also comes complete with a fast charger that has a 32-minute charge time and USB output socket.
Bosch Power Tools: Versatile and faff-reducing
Bosch reckons its FlexiClick 12V (now with brushless motor) is the most compact and versatile drill driver system. No small claim, but then the FlexiClick 12V has been significantly upgraded.
Top speed is up 35% to 1,750rpm, raising max torque to 35 Nm for hard screwdriving applications and 20 Nm for soft. Maximum drilling diameter in wood is up 70% to 32mm, with maximum screw diameter now 8mm, expanding the tool's capabilities. The R&D boffins have made it more compact too, down 17mm on the previous model. At 115mm in length, Bosch reckons this is the shortest cordless drill driver in its class.
It's adaptable - four adapters include bit holder (with bit locking), drill chuck, angle attachment and off-set angle attachment. Bosch's angle adapter can be combined and used with any of the other three. Furthermore, users can adjust the angle and off-set adapters directly on the tool. Faff is further reduced as 16 working positions can be set without detaching the adapter from the drill driver. Get the full rundown via the official site.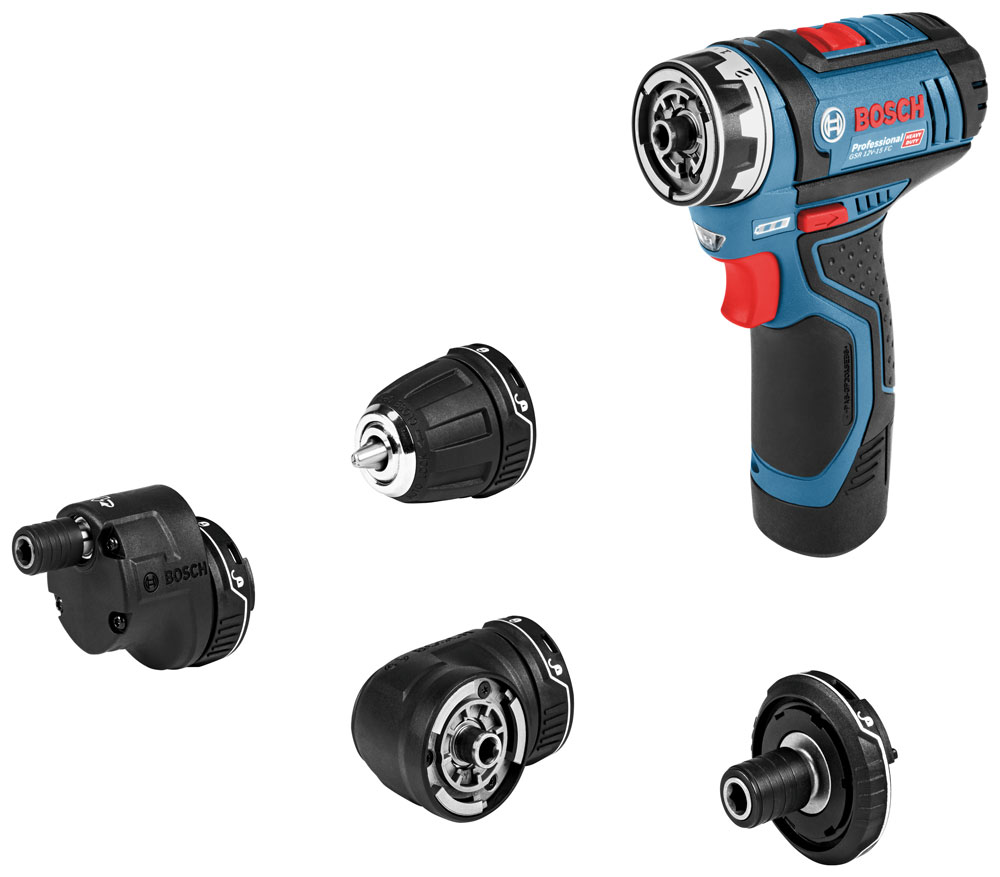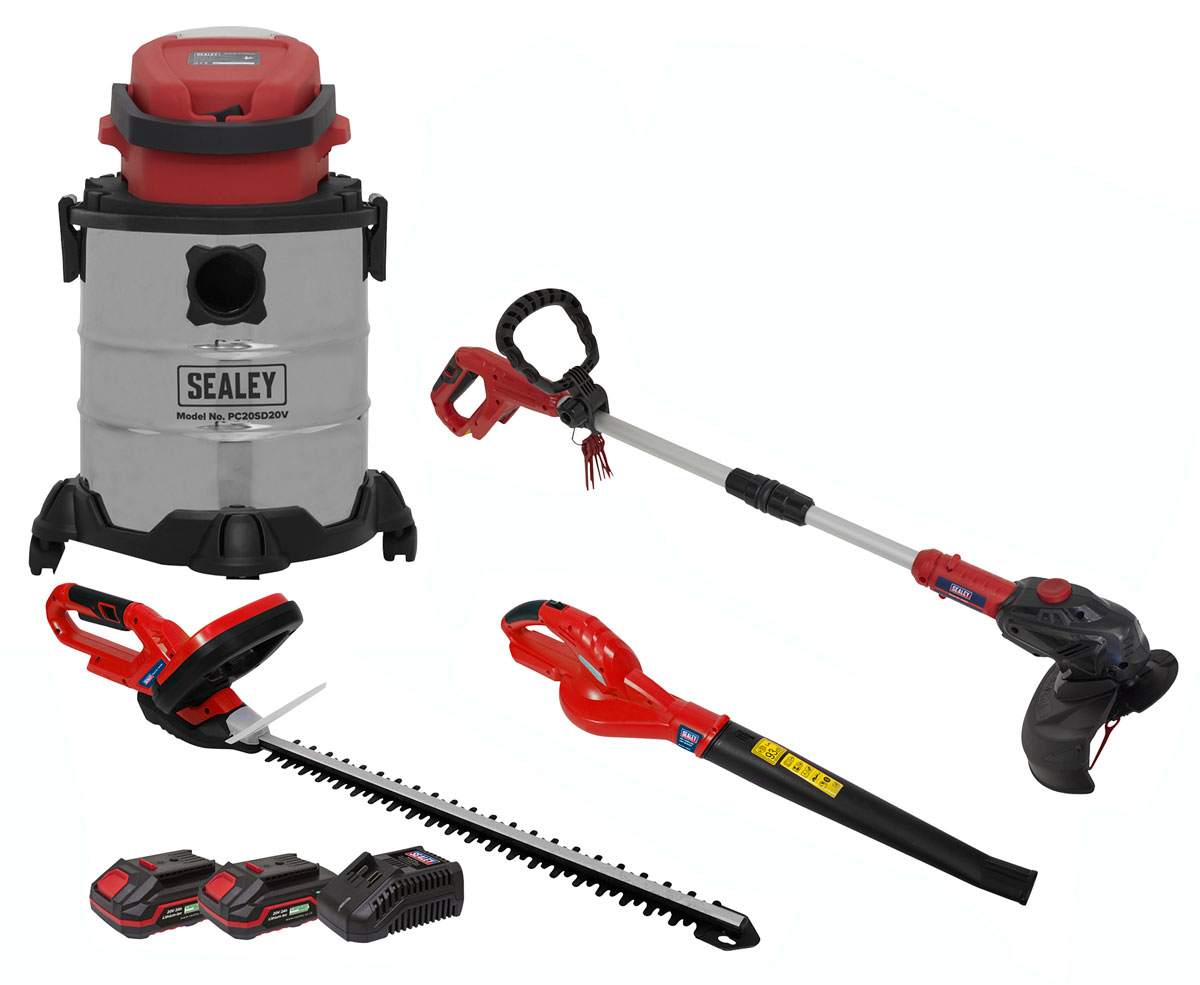 Sealey: Cleaning up with Outdoor Kit
With many power tool brands continuing to eye the outdoor market, Sealey has a 20V Garden Power Tool Kit (CP20VCOMBO3) that comprises four bodies, two batteries and a mains charger. The garden power tools included are Cordless Strimmer, Cordless Leaf Blower, Cordless Hedge Trimmer 520mm, and 20ltr Cordless Wet & Dry Vacuum Cleaner, all of which can be used for DIY and professional use.
The 20 litre 20V Cordless Wet & Dry Vacuum Cleaner has the stainless steel drum mounted on four swivel casters. The built-in blower function is ideal for shifting leaves, but can also function in the workshop or home, particularly where mains power is not easily accessible due to it being lightweight and cordless.
You can contact Sealey (which recently acquired the Worksafe workwear brand) via its Customer Service Department on 01284 757500 or