FOCUS

>

RIVETS, RIVET TOOLS AND RIVET TECHNOLOGY
Productive rivets
Rivet battery tools with increased capacity, productivity-boosting feeders for rivets and the latest in lightweighting... Torque rounds up the rivets
Degometal
Since the beginning of October this year, Degometal has boosted the capabilities of two of its battery riveting tools. Specifically, the firm has increased the capacity of the batteries, so the amperage is now higher. This provides a gain in autonomy, effectively increasing the number of rivets that a tool can rivet with a full charge of battery. The changes affect the battery riveting tools GO 251 (new battery 14.4 V 2.0 Ah upgraded from 1.4 Ah) and GO 264 (new battery 14.4 V 4.0 Ah upgraded from 2.8 Ah).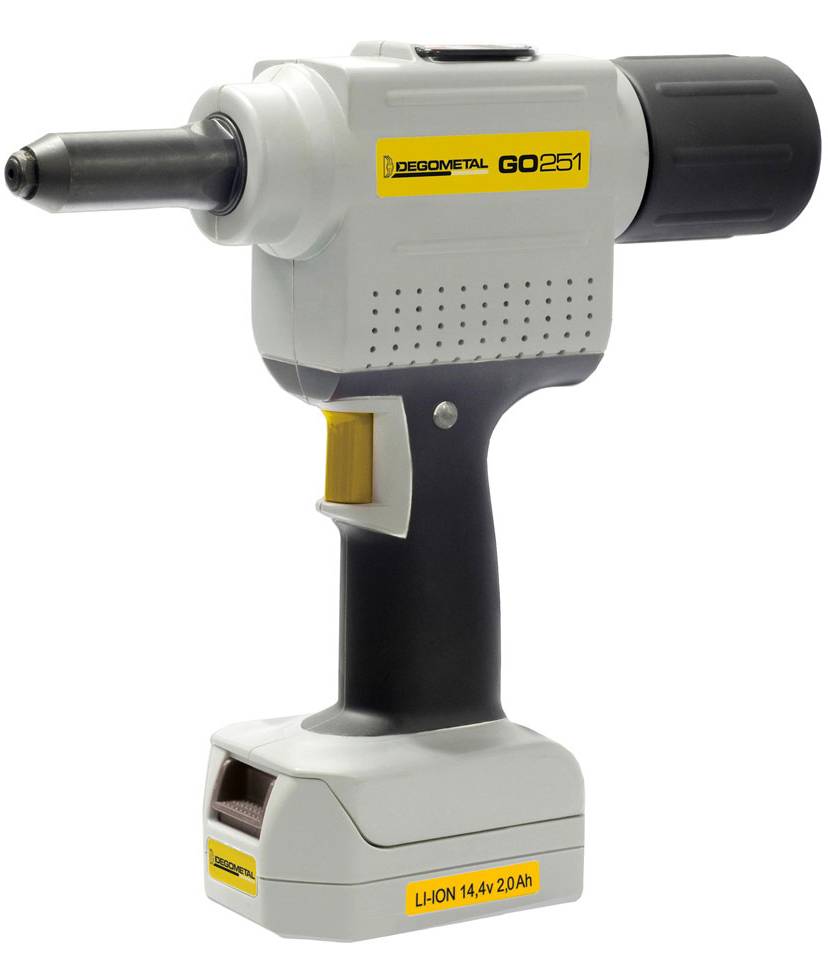 BS Fixings
BS Fixings supplies the big-selling Go-100 Battery Powered Rivet Gun to the industry. The GO-100 rivet gun is, thanks to its lightweight onboard battery, extremely simple to use, with no wires to get in the way or trouble the H&S department. It incorporates a handy receptacle for broken rivet mandrels, automatically storing them while you work, saving time. When the roomy storage box is full of broken mandrels, simply operate the easy twist cap, empty the gun, twist the cap back into place and continue. Unlike some competitor products, the GO-100 rivet gun comes with the lithium-ion battery included.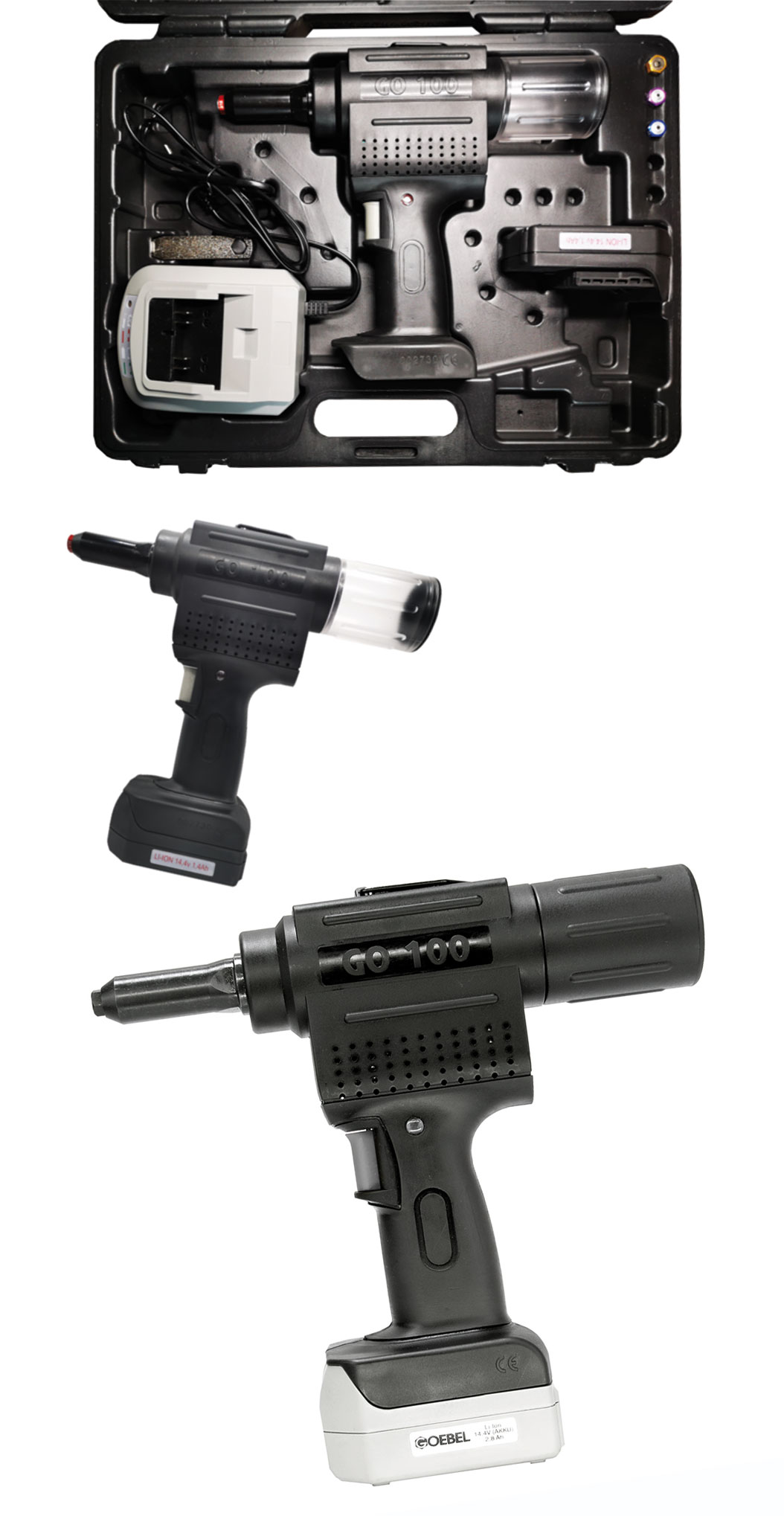 EFC International
EFC International's BCT rivet nut offering is pitched as a best practice light-weighting solution for attaching carbon fibre and composite panels in automotive.
The rivet nuts are manufactured by BBA with Bulge Control Technology®. They are ultra-high strength and engineered to prevent cracking or delamination of carbon fibre panels. The patented design enables an engineered yield point on the body of the rivet nut, ensuring the bulge formation always begins beyond the panel and is drawn back on the panel. BCT rivet nuts can be placed near the edge of the panel without fear of cracking, says EFC.
The installation process can be fully process-monitored and controlled - and installed into areas that offer limited rear side clearance. An M6 rivet nut needs only 8mm of rear side clearance prior to installation and only 5mm after installation. This is perfect for use in thinner version of sandwich (composite) materials, avoiding the need for a through hole. The bulge of the BCT product is strong enough to form by pushing away any material in the sandwich material. Additionally, producing BCT rivet nuts from aluminium for use in aluminium and magnesium, weight is reduced dramatically.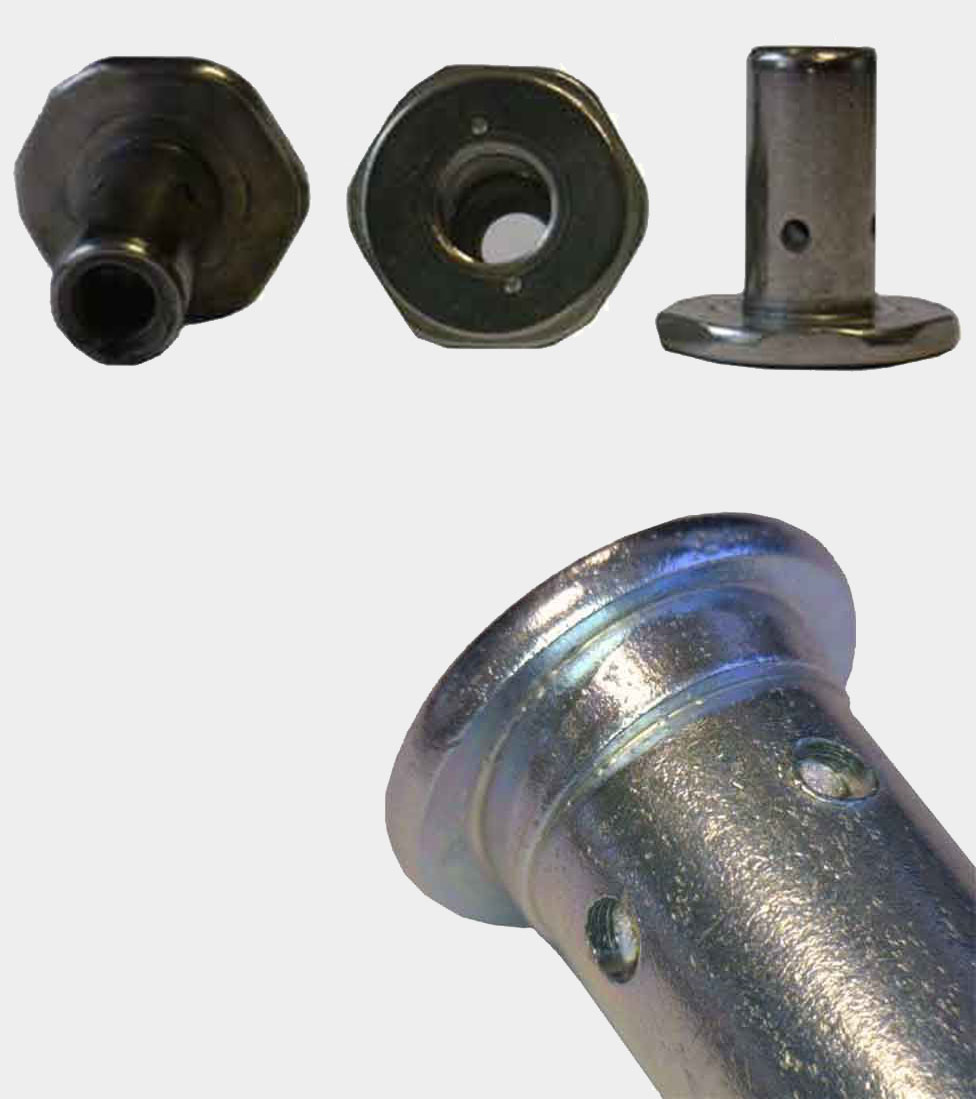 Rivit
Few production lines or businesses would turn down the chance to increase productivity and Rivit's automatic feeders for blind rivets and rivet nuts promise to do exactly that, transforming the loading of the rivet into a time-saving operation.
Rivit's patented automatic systems reduce the time required for the automatic loading of the rivet or rivet nuts directly on the head of the riveting tool. They also boost productivity thanks to:
Significant timesaving in installation operations
Higher operator safety
Usable with one hand
And the riveting tool can be used with a balancer
RIV606 and RIV609 are available for blind rivets. RIV606 is an automatic feeder for standard and structural blind rivets, available in several models:
standard rivets from d.2.4mm to d.3.2mm
standard rivets from d.3.4mm to 4.8mm
standard rivets from d.6.0mm to 6.4mm
structural rivets Magnariv e Monriv d.6.4mm
All systems can have a standard inlet or a right inlet.


RIV606 can be used only with Rivit riveting tools equipped with mandrel suction and storage systems, such as RIV502 - RIV503 - RIV504 - RIV505. RIV609 is a patented automatic feeder for standard blind rivets, available in two models:
Ø 3.2 mm, with 18mm max length
Ø 4.0/4.8mm, with 18mm max length (head not bigger than d. 9.8mm)
RIV609 is sold usually with RIV503 and can be customised for any tool with mandrel suction.
RIV616 comes for the rivet nuts; it is an automatic system projected for rivet nuts from M3 to M8 with cylindrical or hexagonal shank, dome, countersunk or reduced head. RIV616 can be used with many different riveting tools for rivet nuts such as RIV938 - RIV939 - RIV941.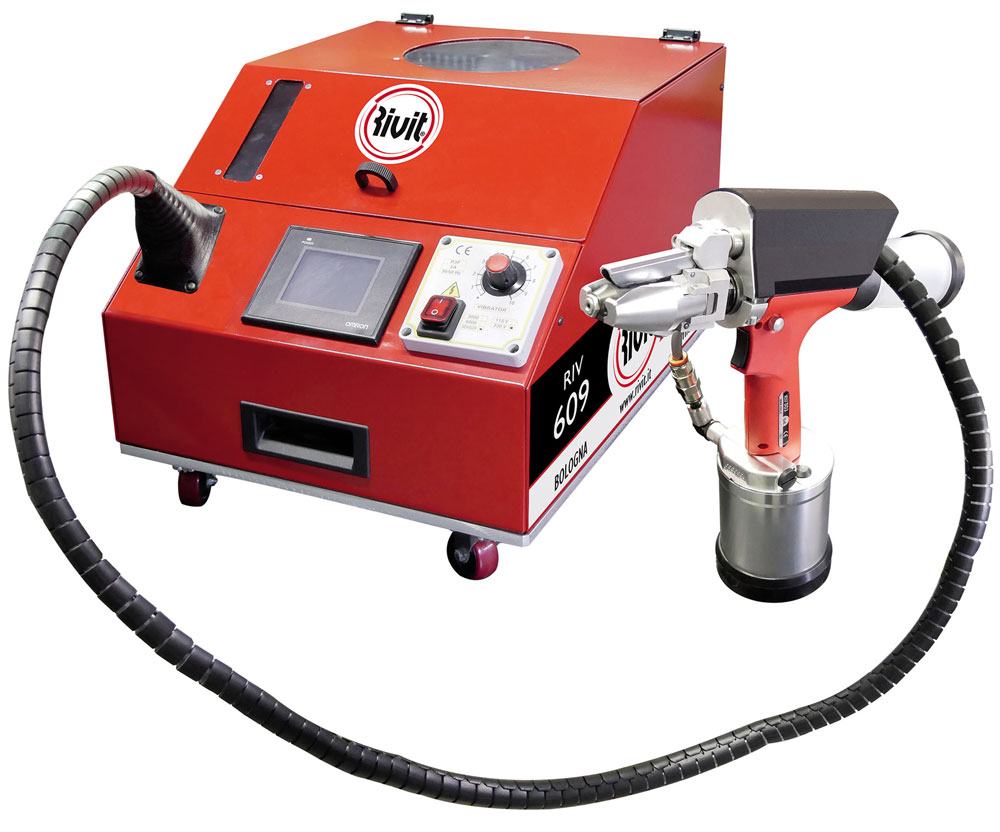 RIV609 and work sequence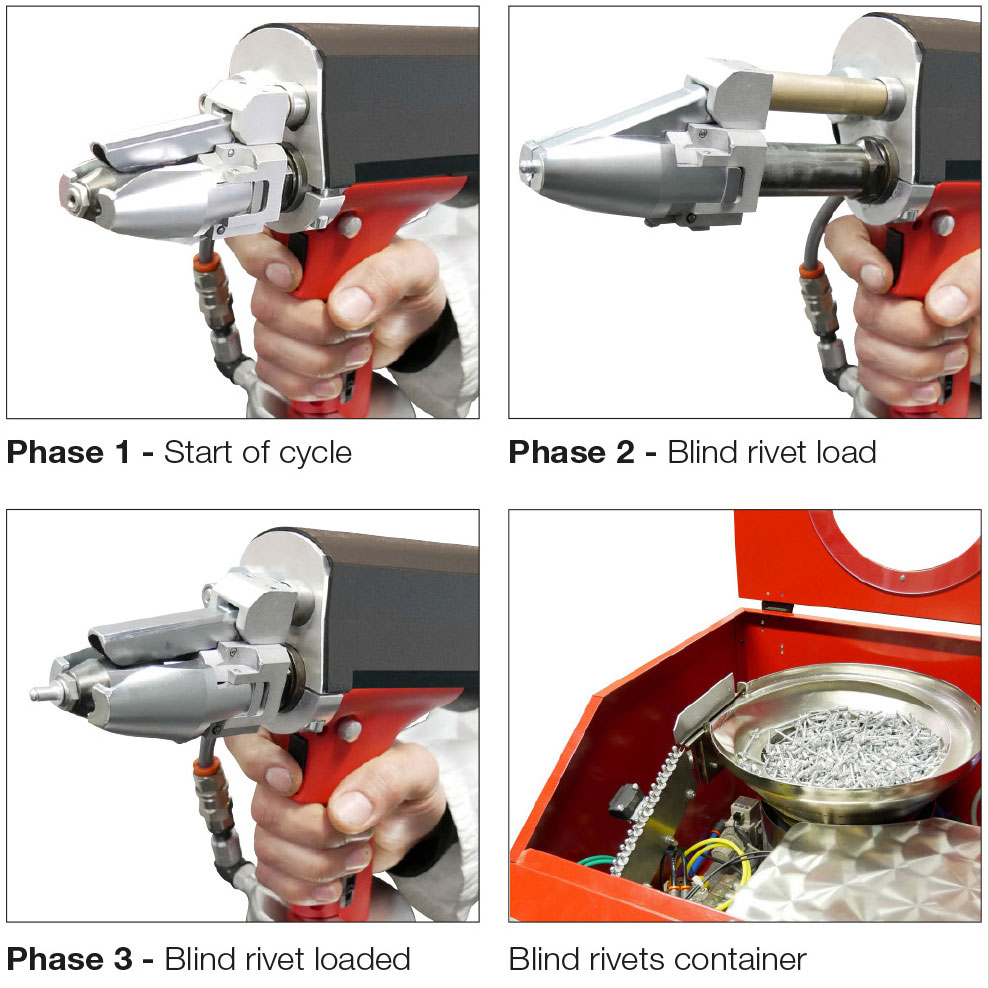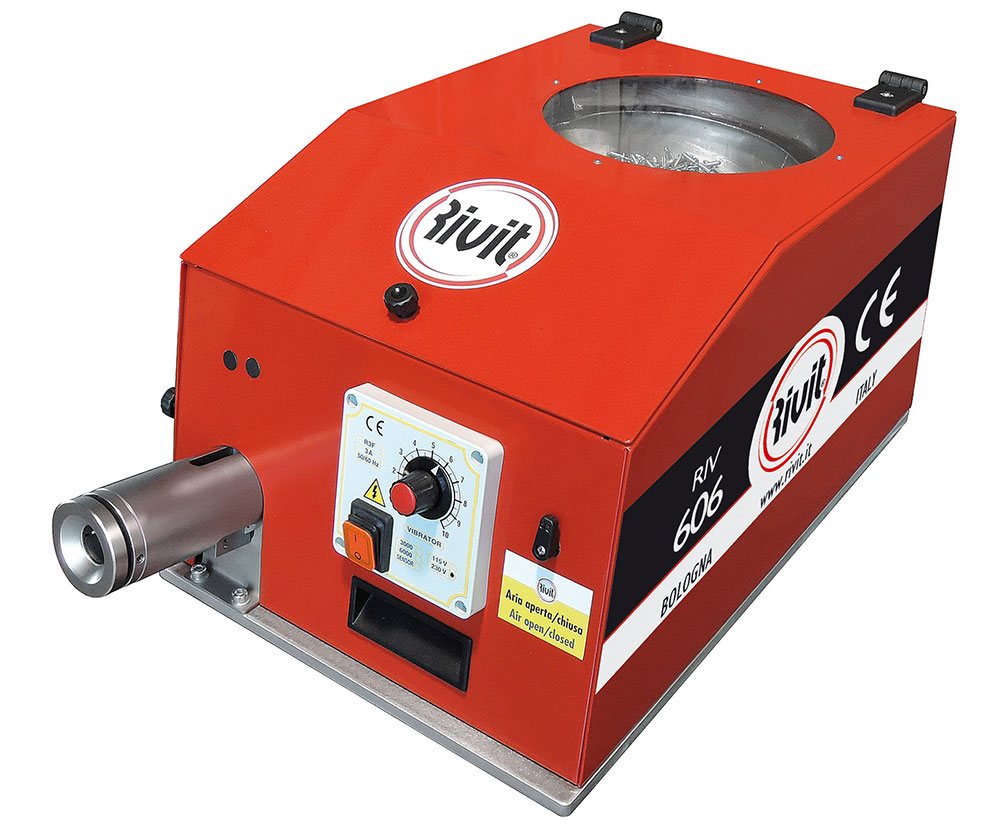 RIV606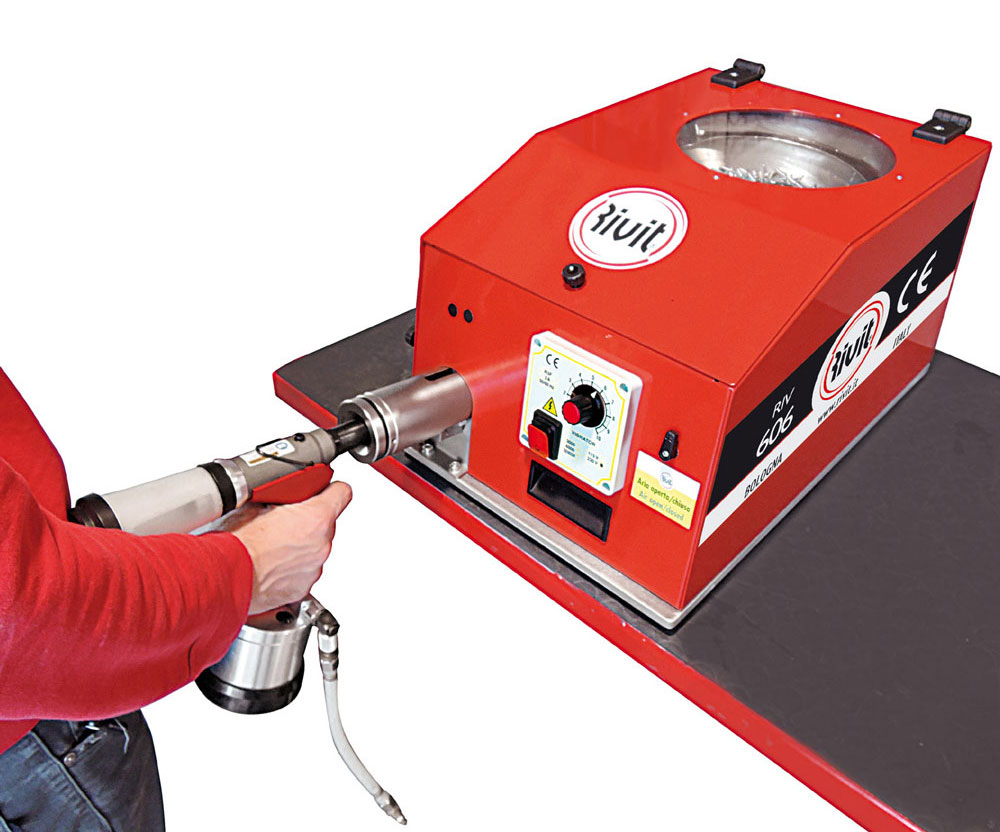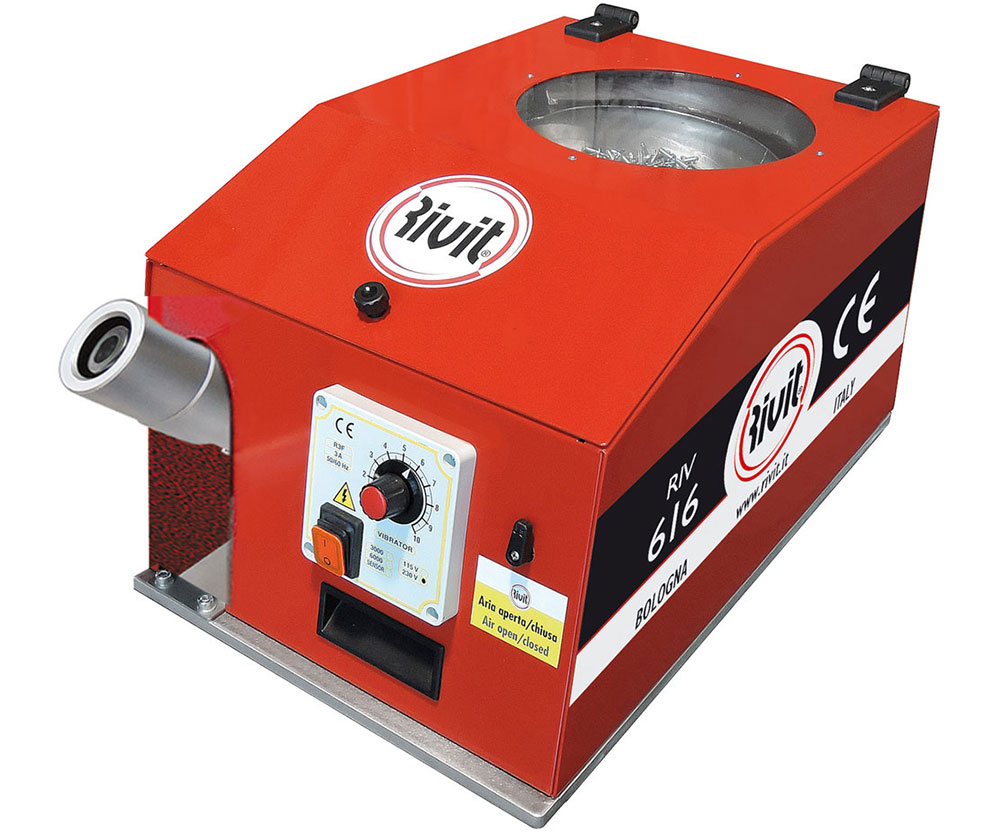 RIV616 and work sequence