FOCUS

>

ANCHOR CALCULATION SOFTWARE
Design, select, evaluate
Featuring HECO, Hilti & fischer
HECO
HECO's Calculation Software HCS is now in its fourth edition. This latest update includes a complete overhaul of the Anchor Design module, which enables craftsmen, production and structural engineers to quickly and easily calculate their requirements for both the proven screw anchor MULTI-MONTI (MMS) and the new screw anchor generation MULTI-MONTI-plus (MMS-plus). The modular calculation software, first launched a decade ago, is based on current standards and codes of practice and offers six theme modules, from those anchor designs and railing fixings to timber construction, façade calculation and more. The software is available in seven languages.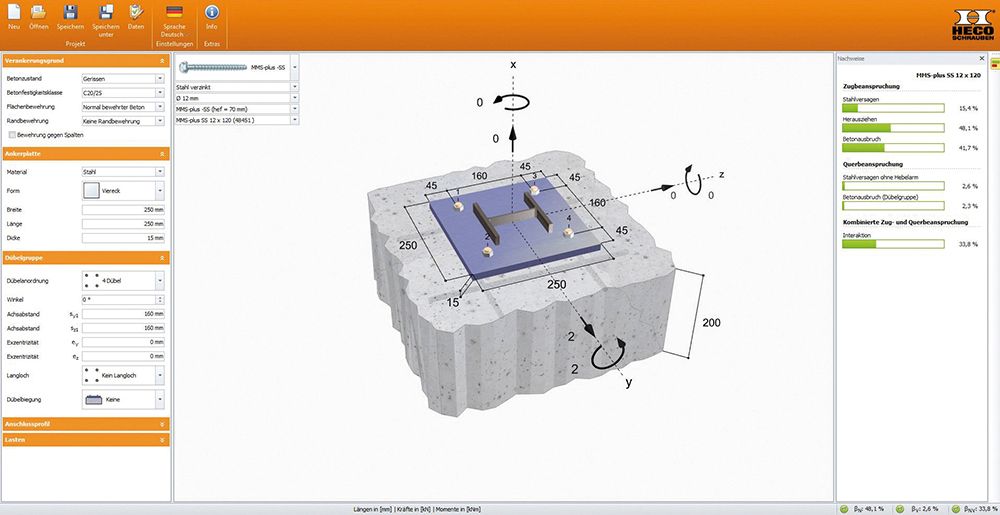 Hilti
Hilti's significant software offering includes Hilti PROFIS Anchor, which designs a wide range of applications for anchoring in concrete and masonry, using the firm's own SOFA design method, which designs complex configurations that are not included in international codes. There are no prizes for guessing what Hilti's PROFIS Anchor Channel design software focuses on, assisting with the design of facades, lift shafts and other anchor channel applications. Also available from the specialist is the Hilti Mechanical Anchor Selector App, which assists in the research and selection of the right anchor fastener for your application.
fischer
Design codes for concrete and steel structures are well understood. However, designing structural connections between base plates and concrete or masonry structures with post-installed anchors is often not as fully understood, leaving engineers and contractors exposed by relying on the manufacturers for guidance. To comply with BS8539:2012 and to follow the latest design codes such us EN 1992-4, calculations have become more complex and specifiers are encouraged to use design software. fischer Fixings' Fixperience suite offers various user friendly software applications, such as C-Fix, RailFix, RebarFix and others. These tools design cost effective anchor connections safely and efficiently, offering the user an easy way to check whether their anchor selection is the most cost effective for their application. But most importantly, they remove ambiguity in anchor design, making everybody's jobs easier while increasing safety in the construction industry.

To learn more, contact the fischer technical team or book a CPD seminar.